Our Sorority Rush Outfit Guide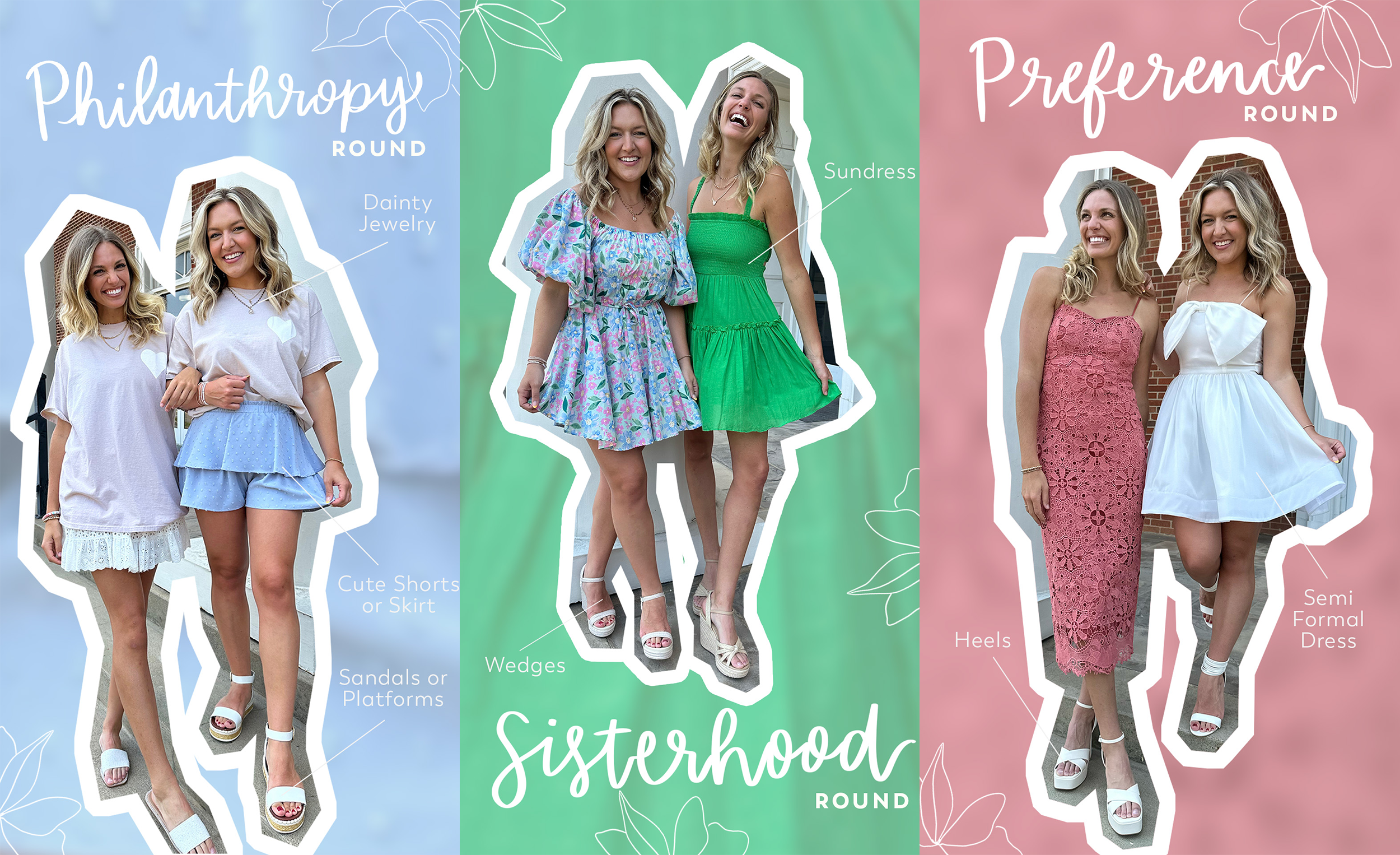 So, you're signed up for sorority recruitment this fall - how exciting! You are about to meet so many new people and form lifelong relationships at your new school. But first - what to wear? Dresses, tops, and bags... there's a rush outfit for every stage of the recruitment process. So take a deep breath, because we are breaking down each round and what to wear. We'll have you dressing confidently, feeling like yourself, and standing out during recruitment. Let's go Greek!
1: Philanthropy Round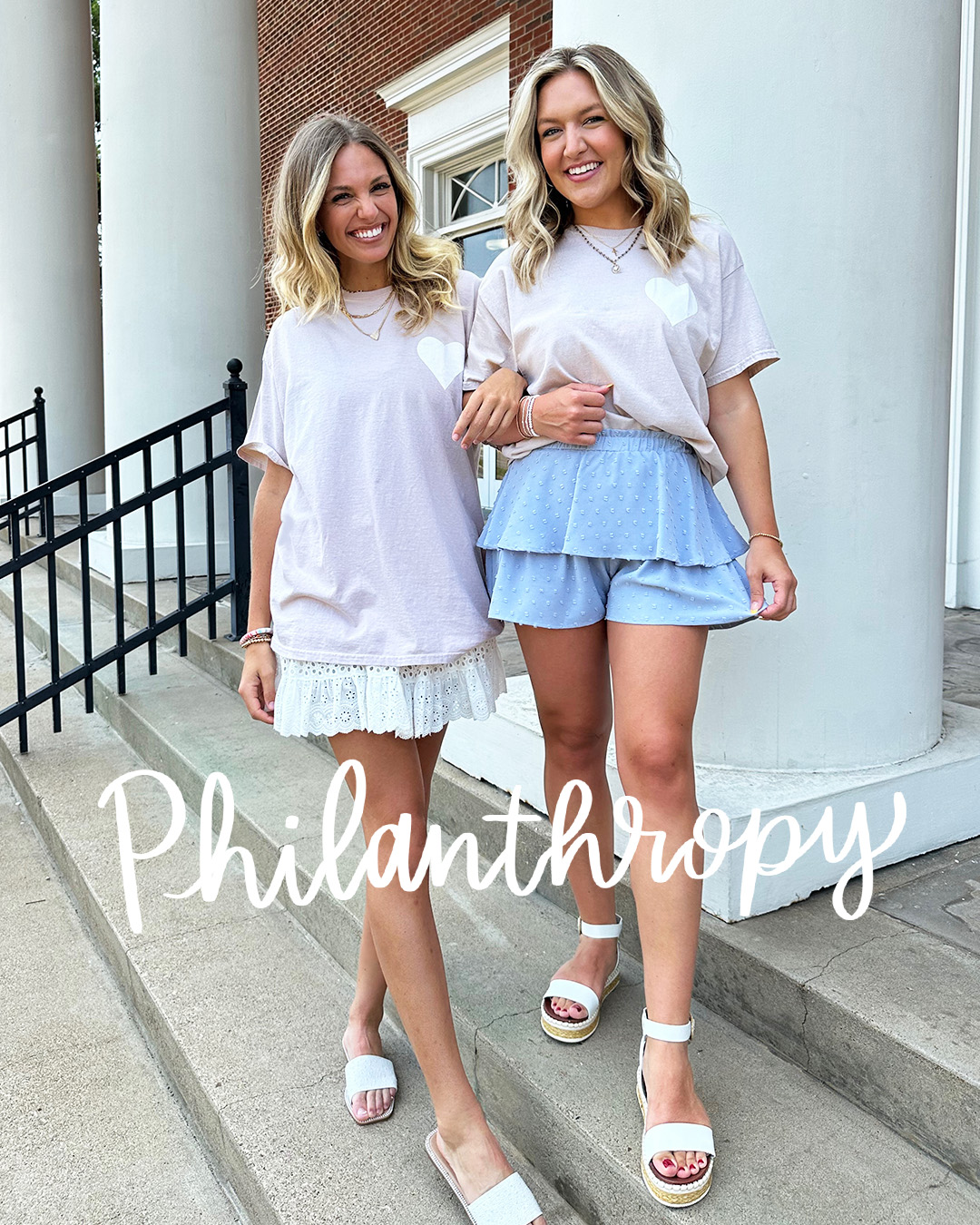 During the first two rounds of recruitment, typically called Go Greek followed by Philanthropy Round, you will wear your most casual outfit. You will spend a short amount of time at each sorority's house chatting with one or two sisters. Oftentimes, Panhellenic will provide all PNMs (potential new members) with matching t-shirts to wear. Since you'll be wearing the same shirt as everyone else, use your shorts, skirt, or skort to stand out. Try a denim skort, a fun fringe skirt, or flowy shorts. Give your t-shirt a subtle tuck or untuck depending on the bottoms. This will be the longest day or days during rush, so it's important to stay comfy. For footwear, we recommend flat sandals or slight platforms. Finish off your look with dainty jewelry that represents your personal style – which can be a great conversation starter!
2: Sisterhood Round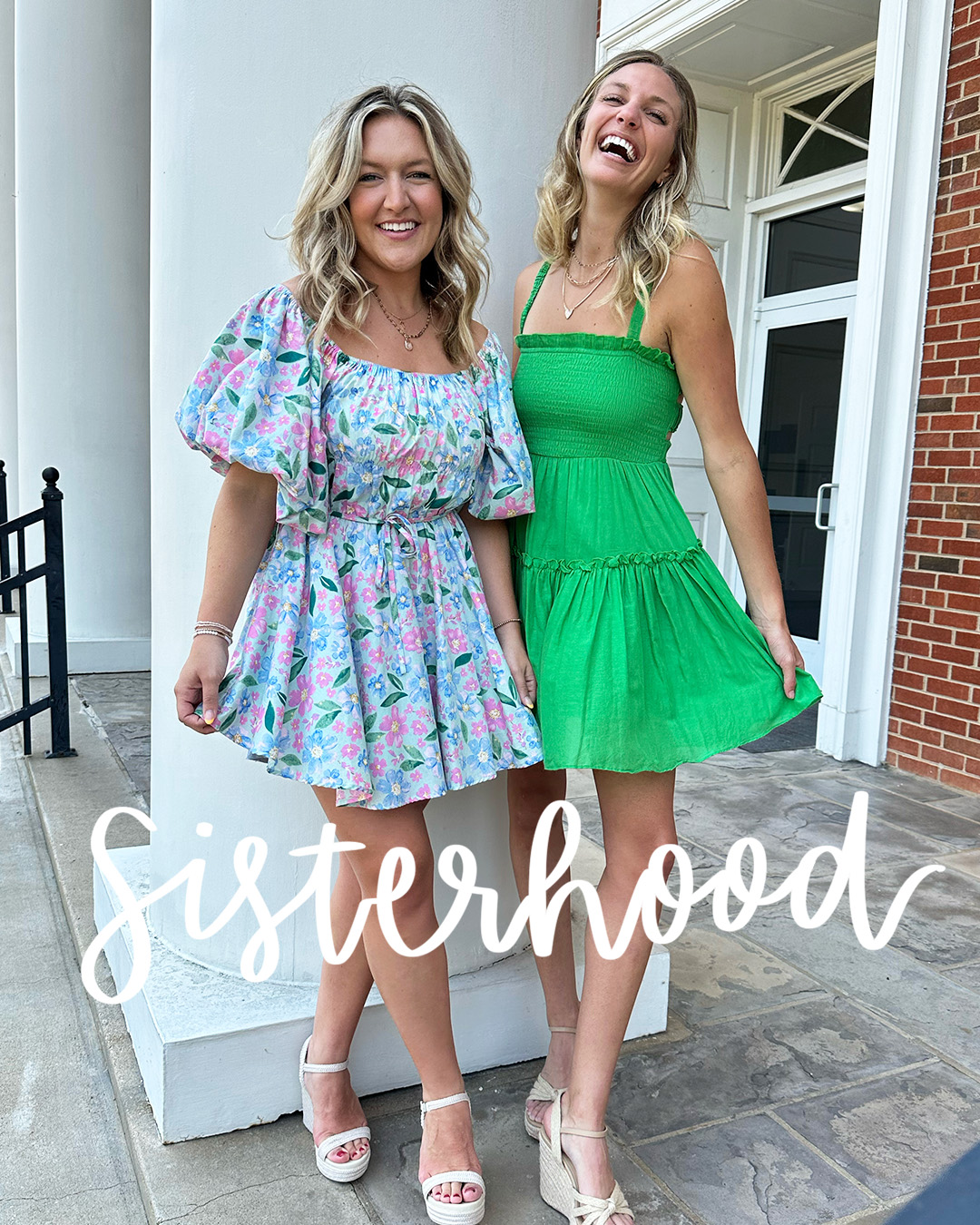 During Sisterhood Round, you'll get to spend more time at a few houses. You'll likely have more in-depth conversations and meet more sisters, a great opportunity for them to get to know you better. Take your look up a step for this round with a fun sundress. We love florals, color, and puff sleeves for this round. Add wedges or platforms to show you're putting in effort for your look. Dainty jewelry or a pair of statement earrings pair well with this look.
3: Preference Round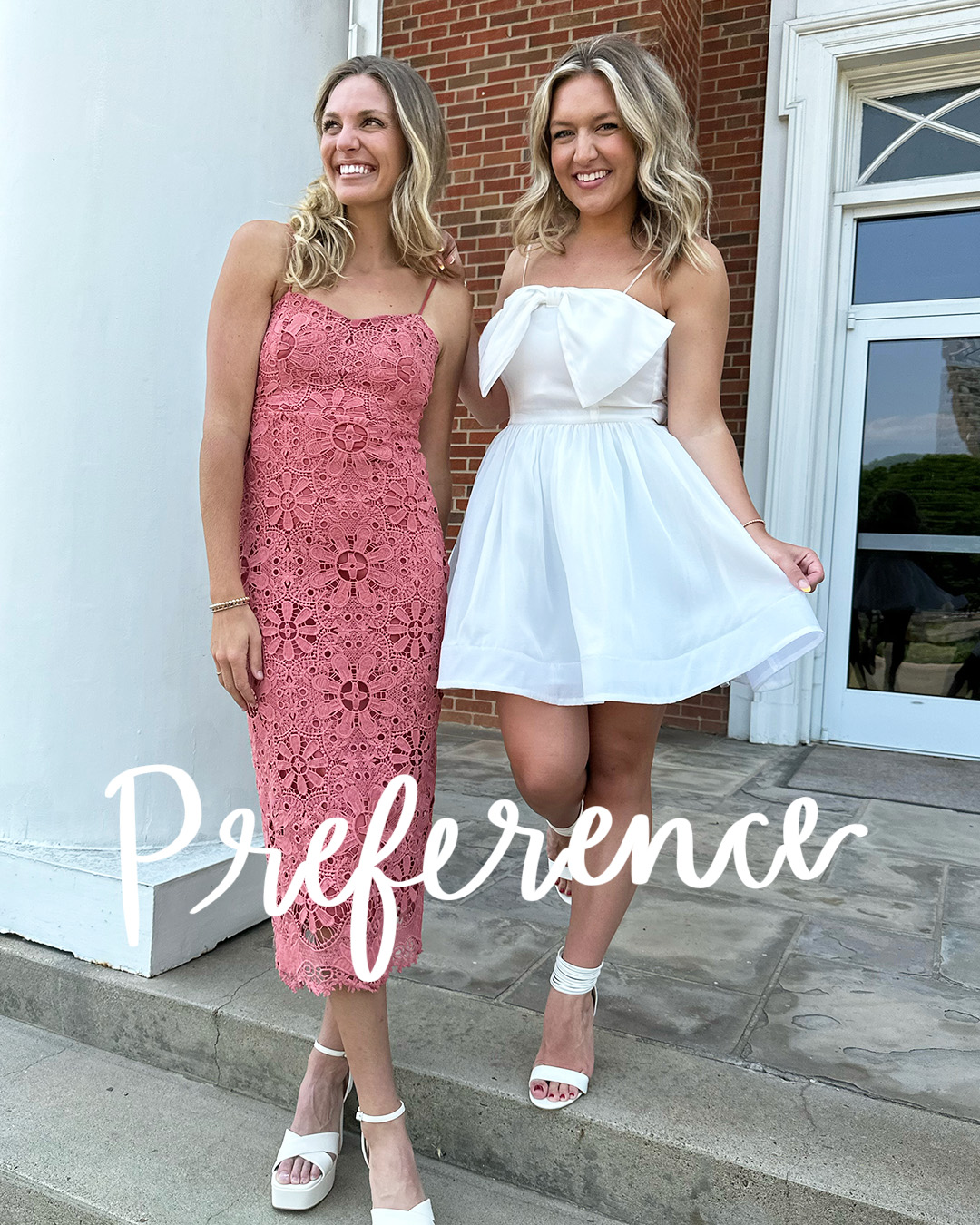 This is the final - and most formal - round of recruitment, where you'll spend more time at your final picks for your Greek house. You get to connect more with the women you have met from the sorority, and truly consider if you can see yourself in that chapter. Since preference night is the most formal of the rounds, this will be your most elevated rush outfit. Think about wearing a dress you would wear to a family wedding or graduation. You will want to wear something that makes you feel great and shows off your personal style. Go for heels for this round – you won't have to wear them for too long!
4: Don't Forget Your Rush Bag!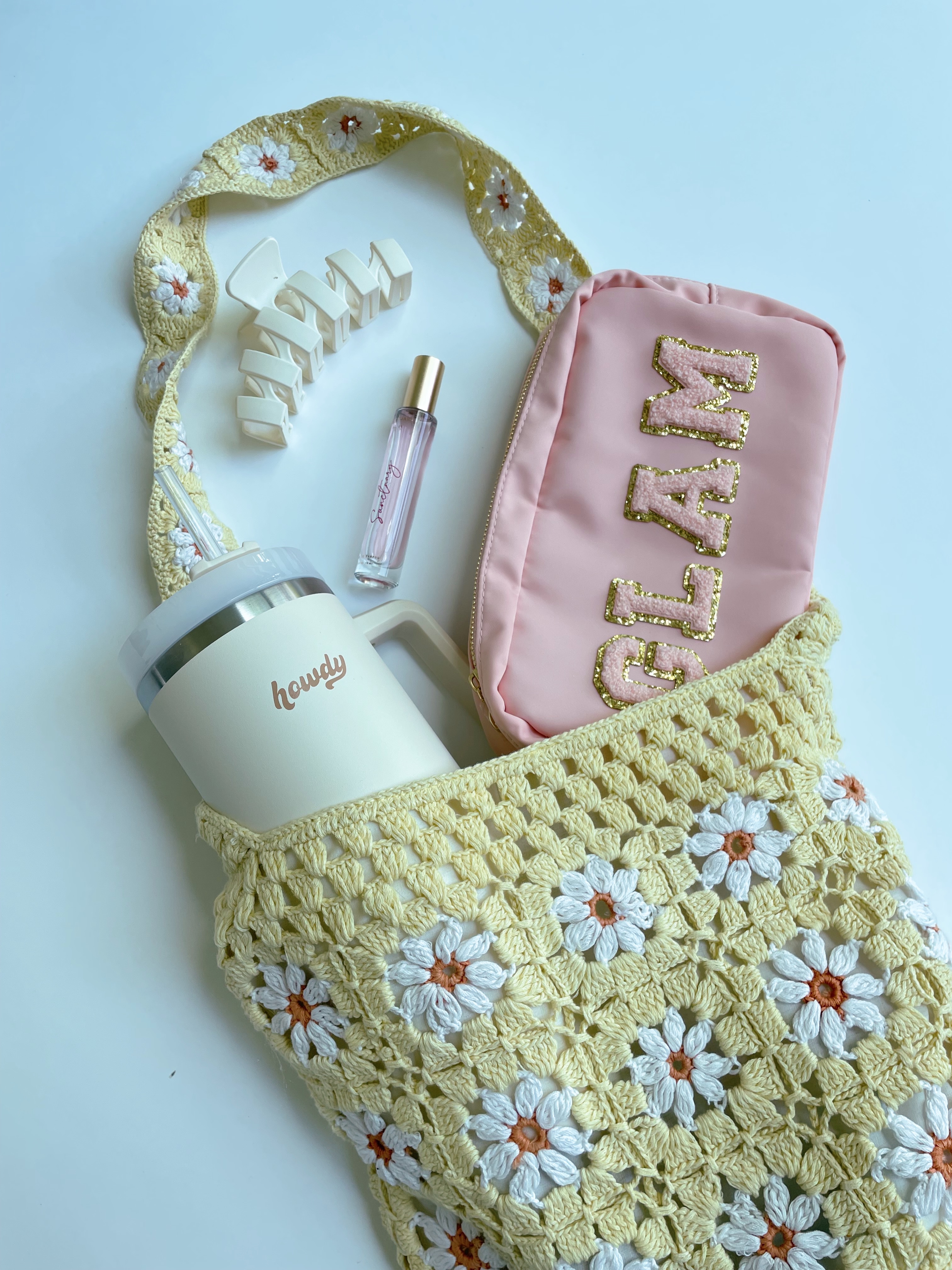 Keeping a bag of your essentials with you during recruitment will be a lifesaver. Having a go-to "Rush Bag" to bring with you each day will set you up to feel (and smell!) great. You could include items like a mini fan, claw clip, travel Sanctuary Perfume, a cosmetic bag with makeup and a brush, and lots of water (our Kait Cup is perfect for this!).
There are more adorable outfits to love in our Rush Ready Shop. We know you will look amazing! All in all, relax, be yourself, and know that this one week does not define your college experience. ⭐️
MORE CATEGORIES TO EXPLORE