The Art Behind our Display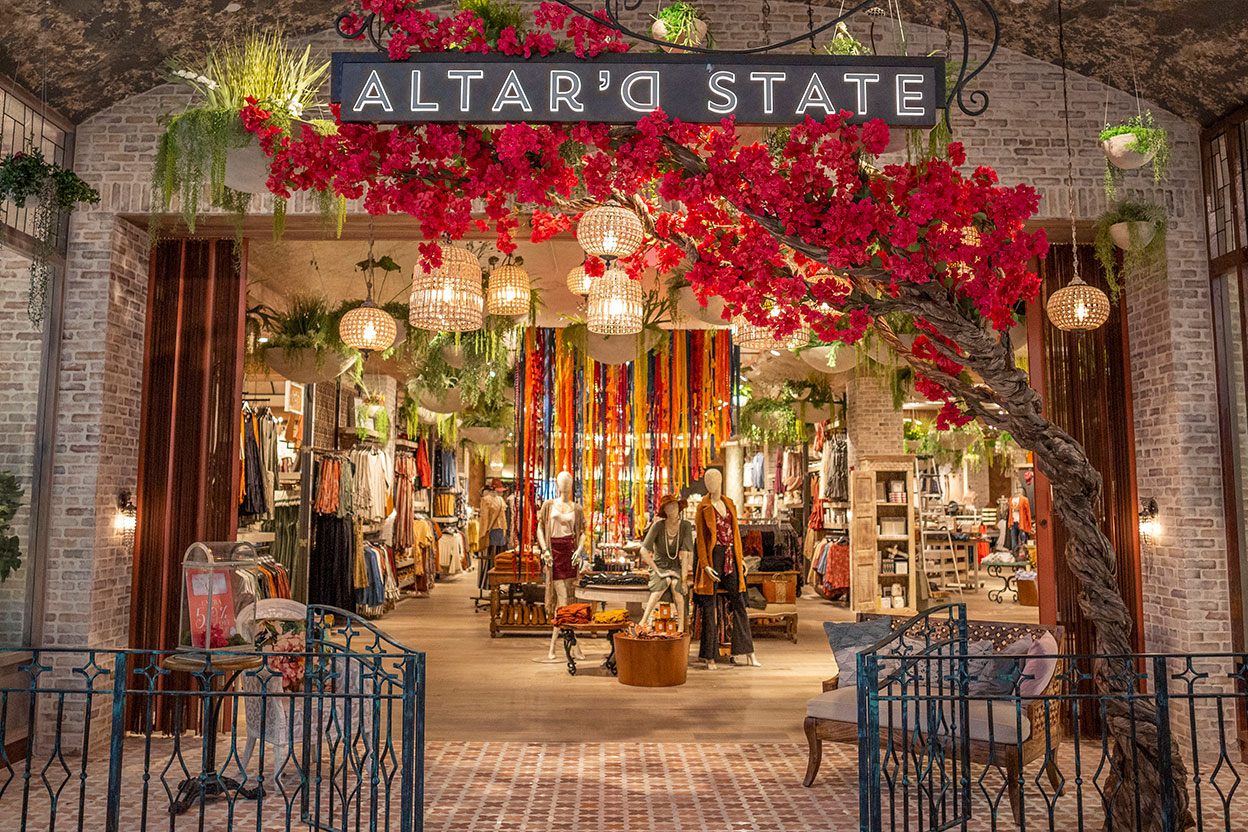 As every new season rolls around, the Altar'd State Visual Team is in charge of conceptualizing, sketching, prototyping and shipping out every store's window displays. Coming up with a display concept every season is always a little tricky – we want the displays to feel seasonally appropriate, of course, but also unique from other retailers. This season we thought to ourselves: our connection to Peru is unique and unlike any other retailer - why not celebrate that through our displays this fall?
Since 2013 Altar'd State has partnered with Coprodeli, a non-profit organization that supports community-based development efforts and serves impoverished families in Peru. Every Altar'd State store, as well as numerous individual employees, sponsor children in Peru and every year the company sponsors a mission trip which employees can travel to Peru to interact with the children they sponsor and help to build schools, churches, and donation warehouses among many other things.

So, Peru it was! Once we have our window concept nailed down, it is up to me to delve deeper into the concept and decide upon displays for our "Art Installations" or "AI". The AI is a new idea that the company has developed to add an extra layer of display in the interior of the store. We choose about a third of all the stores each season to affect with the Art Installation.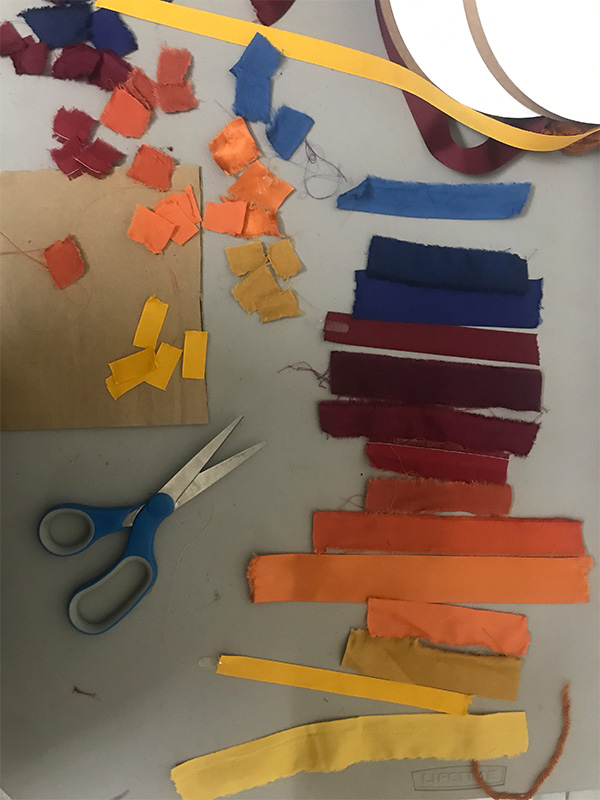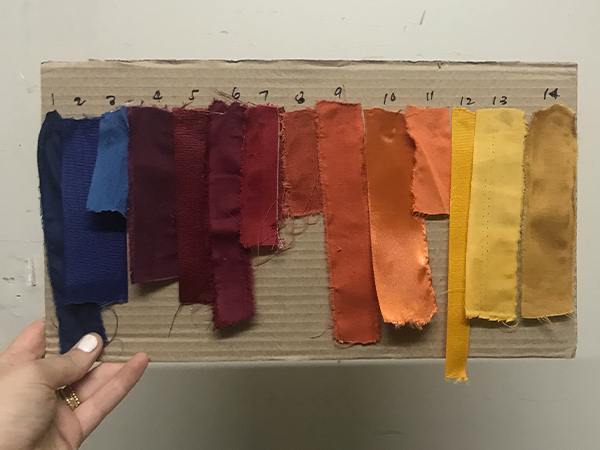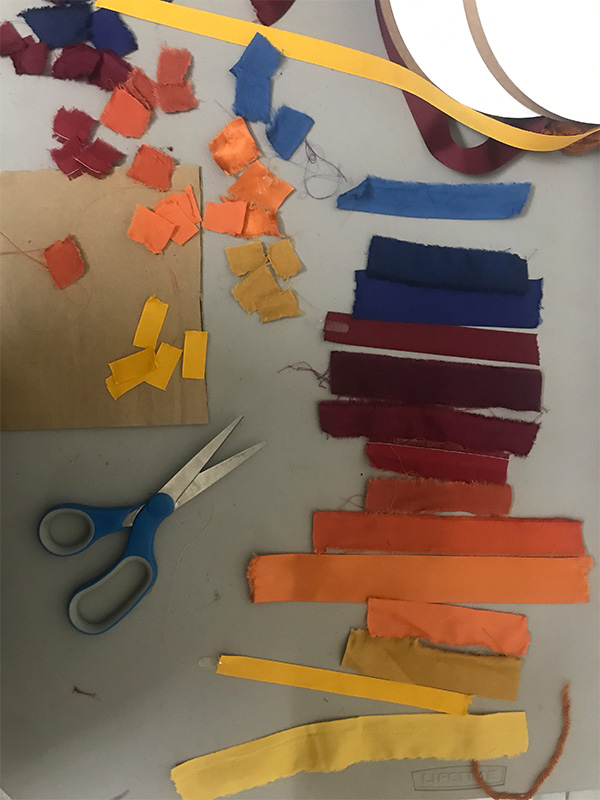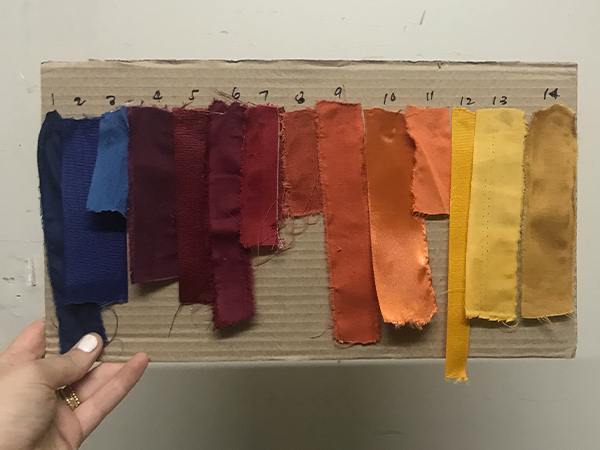 I describe the Art Installation planning process as "zooming in" on one area of the larger window concept. Peru has many rich traditions, including the longest continuous history of textile production in the world (10,000 years!), so for the AI this season I decided to "zoom in" on the textiles made from llama wool that we have in our window displays. Then I always like to "blow it up" – take whatever we've zoomed in on and scale it up or repeat it many times in an artful, interesting installation within our store space.

The Art Installations in our stores are meant to make you feel like you've just walked into our windows. They are also meant to help guide you through our stores and emphasize certain areas and highlight special tables or walls of product, and although they are a variation on a theme, every AI store completes its own unique display so every store is different! For this particular store, with an enormous corridor as soon as you walk in, we decided to create a sort of deconstructed, exaggeratedly large Peruvian blanket that would span the entire ceiling with its swags and then cascade down behind the entry table.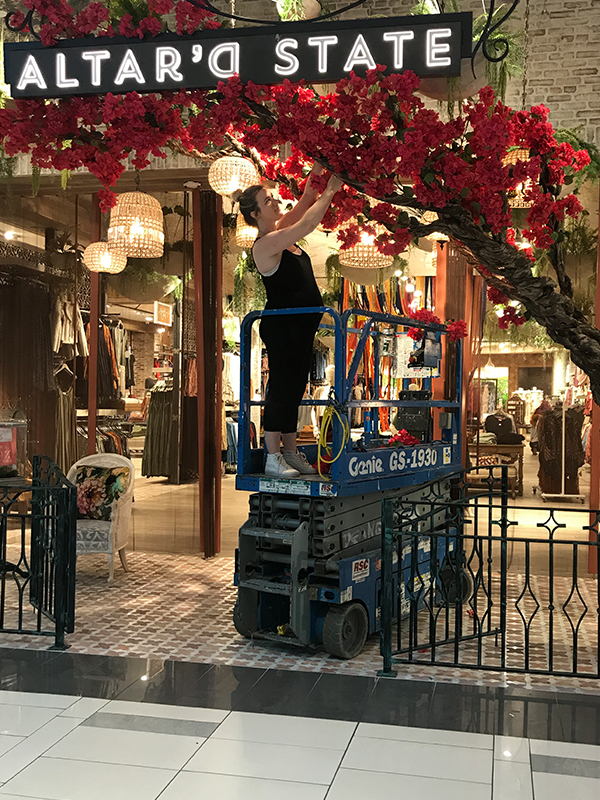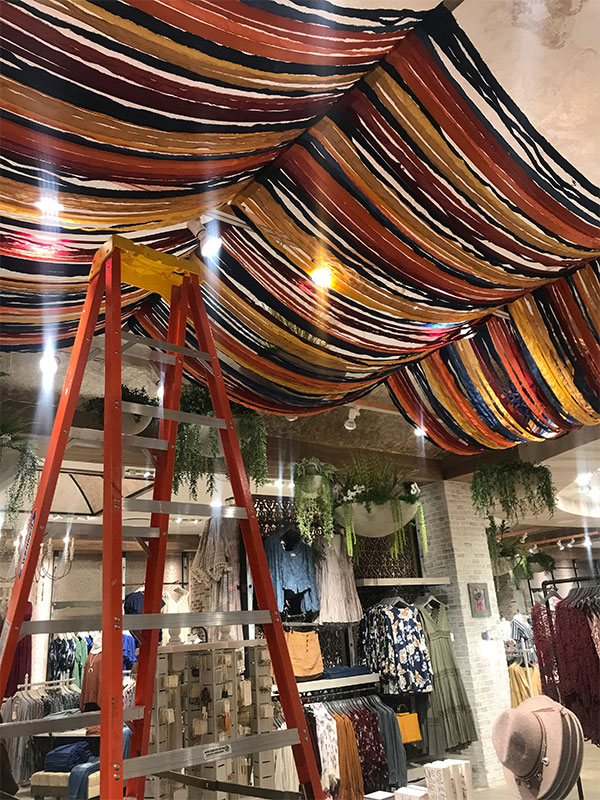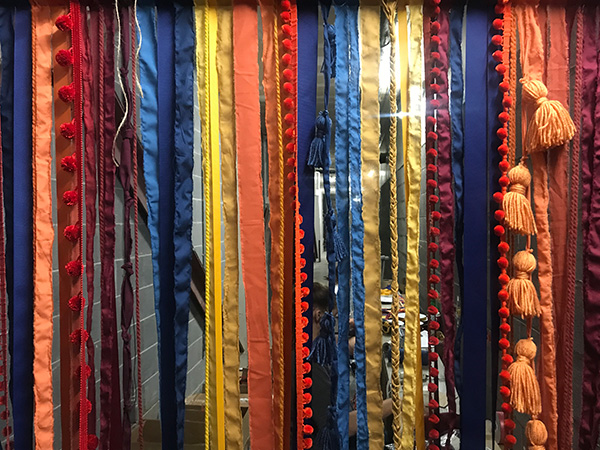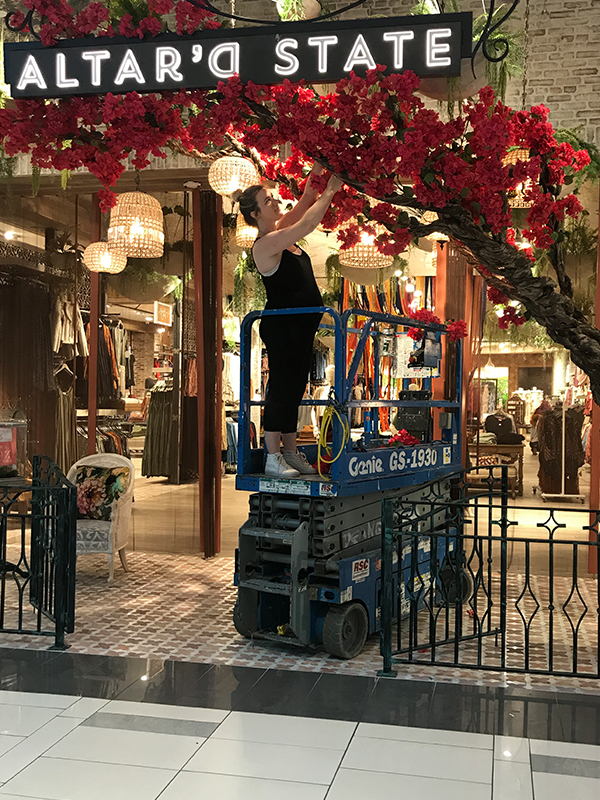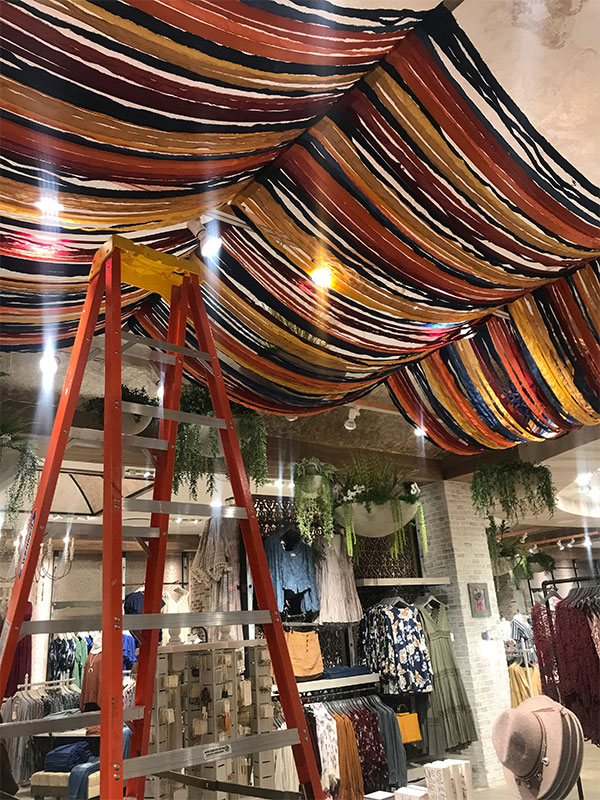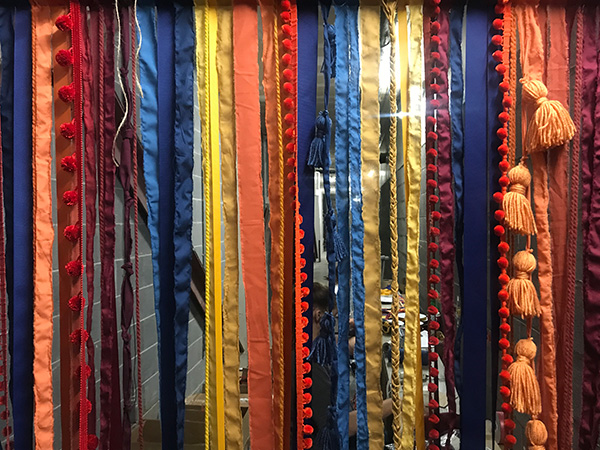 What began with a quick sketch became this is enormous display over the span of a 3 days. While one person started ripping strips of fabric about 1 inch wide and 8 feet long in about 14 different colors, another team member was creating tassels and pom-poms by hand, and another was measuring out trim and yarn to be mixed in. I worked on a color order that would emulate the irregular stripes of color found in traditional Peruvian textiles, and once we had all our elements prepped, we began attaching them with hot glue to pieces of 12 foot lumber from which they would hang.

This was just one of many Art Installations that we completed in this store, but is surely has the biggest presence! Throughout the country this fall, 45 Altar'd State stores out of our total 115 completed a variation on this celebration of Peruvian textile-making and encourage you to check them out and see how each store reinterpreted this idea for their individual space! In the world of display, one is constantly required to reinvent the same space over and over again, all while making the guest feel like they've walked into a completely new environment every season – it is this challenge precisely that makes me love my job so much!

– Anne Thomas,
Creative Art Director, Visual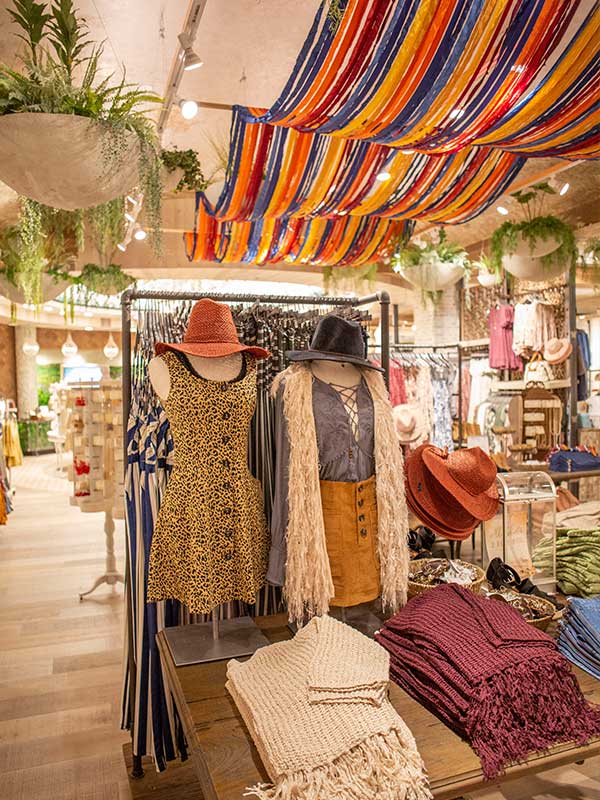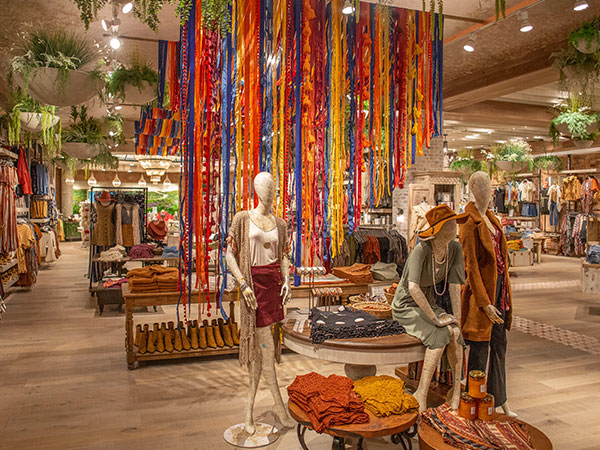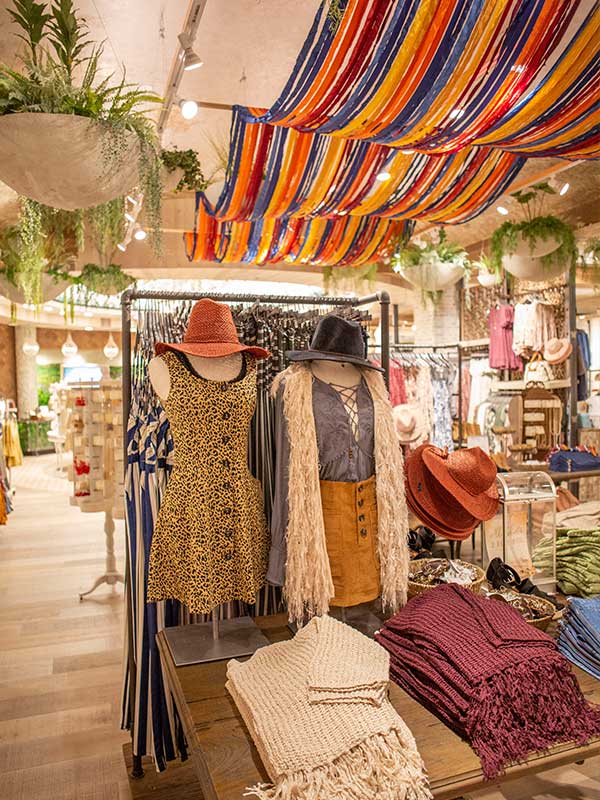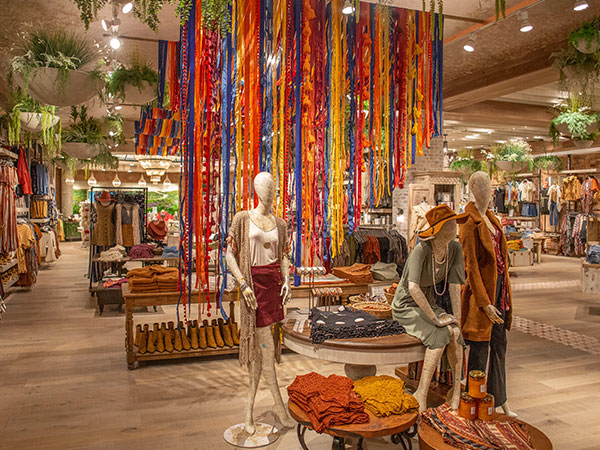 Each store's Art Installation is a little different...visit your local Altar'd State to see how they brought the magic and color of Peru to life!
MORE CATEGORIES TO EXPLORE